Members who meet the qualifications have the right to seek election to the board of trustees. While serving on a board is certainly not for everyone, it is healthy for any co-op to have an engaged membership with members interested in serving in a leadership role.
At Western Co-op, we are governed by a board of nine trustees elected by the membership to provide strategic guidance and ensure we continue to serve the member's interests.
To run for a Trustee position, candidates:
Must be a member of Western Cooperative Electric
Cannot be employed by or financially interested in a competing enterprise or a business selling electric energy or supplies to the Cooperative.
Cannot be a current employee or have been employed by the cooperative within the last five (5) years.
Must be a bona fide resident within Western's service territory
During the December board meeting, the Western board appointed a nominating committee to serve as an impartial party to help vet and provide information to members interested in running for a trustee position.
If you are interested in running for a Board of Trustee seat, you must contact a Nominating Committee member in your corresponding district before the March 1 deadline or stop by Western's office to pick up the member petition form.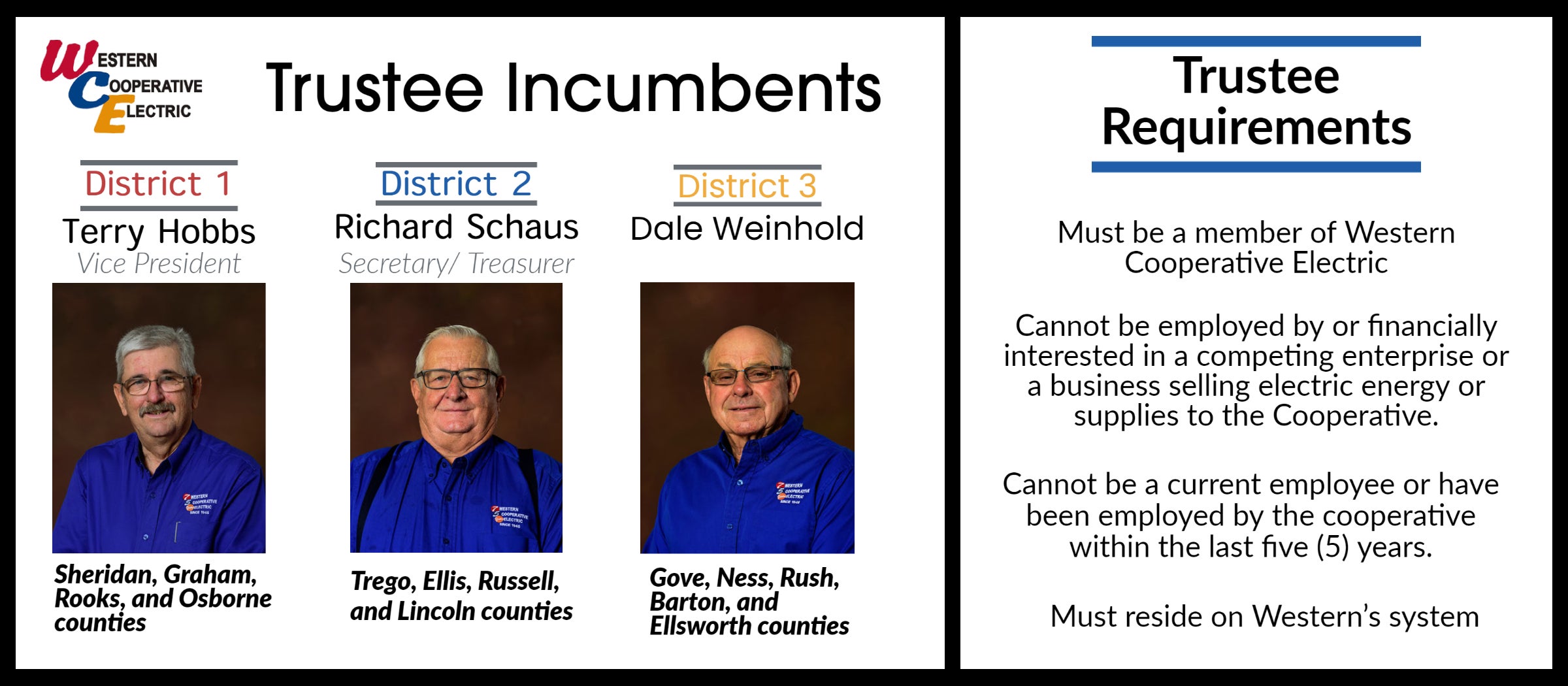 2023 NOMINATING COMMITTEE MEMBERS INCLUDE:
District 1:
Sheridan, Graham, Rooks, and Osborne Counties
| | |
| --- | --- |
| Tom Brown | Moreland |
| Pat Wendling | Plainville |
| Pat Haffner | Hoxie |
District 2
Trego, Ellis, Russell, and Lincoln Counties
| | |
| --- | --- |
| Eric Moden | WaKeeney |
| Nathan Staab | Hays |
| John Kuppetz Jr. | Ellis |
District 3
Gove, Ness, Rush, Barton, and Ellsworth Counties
| | |
| --- | --- |
| Doug Manhart | Grainfield |
| Terry Ostmeyer | Grinnell |
| Doug Stefek | Ellsworth |